How to pick Bouquet Ribbon.

We get it. Picking your bouquet ribbon can seem stressful. What if the ribbons don't match my flowers or bridesmaid dresses? How do I know what widths to buy? I've picked my ribbons, how do I select my bridesmaids ribbon? What if it's last minute and I need my ribbons this weekend? Well, take a deep breath, We've got you covered. Our co-owner, Ginny Au, was a world renowned wedding planner and stylist for years before founding Froufrou Chic and she is here to answer those questions and help with your ribbon selections.
IN THIS GUIDE WE WILL COVER THE FOLLOWING TOPICS
IN THIS GUIDE WE WILL COVER THE FOLLOWING TOPICS

Have you seen our Bouquet Collections? Our Froufrou team have chosen pre-made bouquet collections in a variety of color families to make your bouquet selection easier. Click the link below to shop now.(PS. You can also order sample swatches for the bouquet collections)
Hey there! Over the years of planning, styling and now running a ribbon company, I have some trick methods to picking bridal bouquet ribbons.

First, don't get too hung up on matching colors to your theme, flowers or bridesmaids dresses. My favorite ribbon collections are compliments to those colors, not matching.
Secondly, if you feel nervous about color choices, buy a sample. Every ribbon has a drop down option to buy a color sample.
Thirdly, We are here to help. We love helping brides pick their ribbons. Send us an email or call our studio for personalized help.
Lastly. I get it, buying Froufrou Ribbons isn't cheap. But there is a reason for that. Our ribbons are made by hand every step of the way, so our pricing is high because the quality of product is high and we have the most luxurious of silk ribbons. And did you know, our ribbons are color set, so you don't have to worry about them running when wet like other silk ribbon companies. Finally, (and this is my favorite part) you can keep your ribbons as a keepsake. I'm a sentimental person and I love that so many of our brides wash their ribbons after their big day. Use them to wrap around wedding photos or an album, hide them away in a keepsake box or cut them up and use as ornament ties for your Christmas decorations.
Here We Go.. Ginny Au Bouquet Guide
Lush Bridal Bouquet Option
I love a bridal bouquet that has great movement, texture, and depth. That is why I normally pick three (sometimes four) silk ribbons to fill out a stunning lush bridal bouquet. All our ribbons come in three yard lengths this allows for a long flow that blows around in the wind and creates those froufrou bouquet pictures you see and love. Below I have shared some tips on selecting those lush bouquet ribbons.
NOTE: I am using a dusty blush option as an example.

I like to start a bridal bouquets with our 4 inch gauze silk ribbon. It has the most romantic drape, flows with the wind or movement and is slightly translucent. You can pick a neutral coloror go straight to your color choice.
Start with your Color Choice
Or Pick Neutral Color and then add the color in your next step

This is how we get those yummy full bouquet ribbons. Add our original silk ribbon in 2.5 or 1.5 inch. Pick one (or two) of the options below depending on the look you want, matching, complimenting or contrasting.
Perhaps add a Contrasting Color

The final step. Let's pick a textured ribbon. We have two options: Our chiffon silk is delicate and translucent. Our Crinkle silk (I like to press mine for a softer fall) has more texture contrast and a Ginny Favorite.
Chiffon Silk in Matching or Complimenting Color
Crinkle Silk in Matching or Complimenting Color
Here are Some Examples of Lush Bouquets.
Bridesmaids Bouquet Guide
After You have chosen your bridal bouquet ribbon, let's help you with the bridesmaids bouquets. Firstly, we know not ever budget includes hand-dyed silk ribbon for your maidens. We have a couple of options for different price ranges and will help make this process as easy as possible. Secondly, remember you don't have to worry about matching that bridesmaid dress, think more about complimenting the color with your ribbons. Here are some tips for picking maiden bouquet ribbons.
NOTE: I am using a blue wedding theme color as an example

You already have your bridal bouquet ribbon and bridesmaids gowns picked out. Below are some examples for a blue wedding theme to help you see how we pick our bouquet ribbon.
This bride wanted her brides to pick their gowns and gave them a variety to choose from all in the same dusty light blue color family.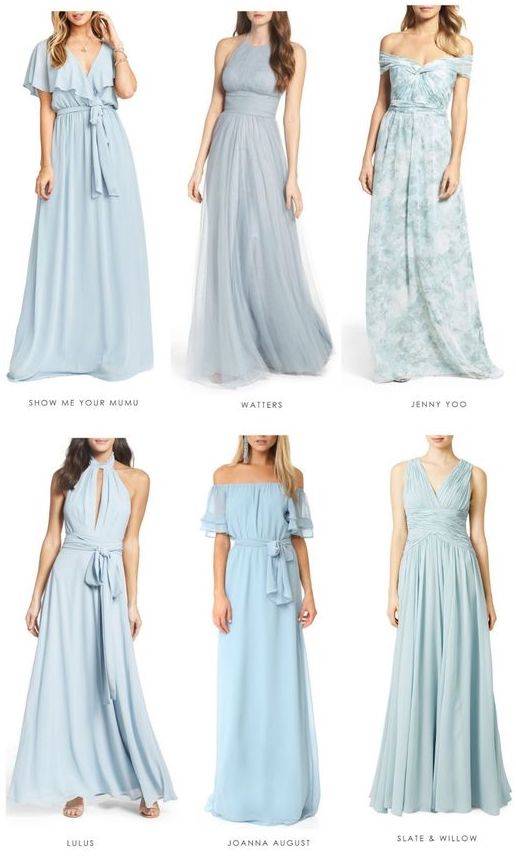 Here are some examples of our silk ribbons depending on your budget.
We are giving you some complimentary color options in each section for a blue themed wedding.
3 yards of 1.5 Inch Original Ribbon
3 yards of 2.5 Inch Original, Bias or Chiffon Ribbon
3 yards each using Two Silk Ribbons
Choose 3 yards or 2.5 inch Chiffon and 3 Yards of 1.5 inch Original Silk Ribbon
Choose 3 yards of 1.5 inch Crinkle and 3 yards of 1.5 inch or 2.5 inch Original Silk Ribbon
Liquid error: Exceeded maximum number of unique handles for all_products.
Liquid error: Exceeded maximum number of unique handles for all_products.
Liquid error: Exceeded maximum number of unique handles for all_products.
Liquid error: Exceeded maximum number of unique handles for all_products.
Here are some examples of past bridal parties and the ribbons they chose with a bleu wedding theme. Don't forget to contact us for personalized help with picking your ribbons.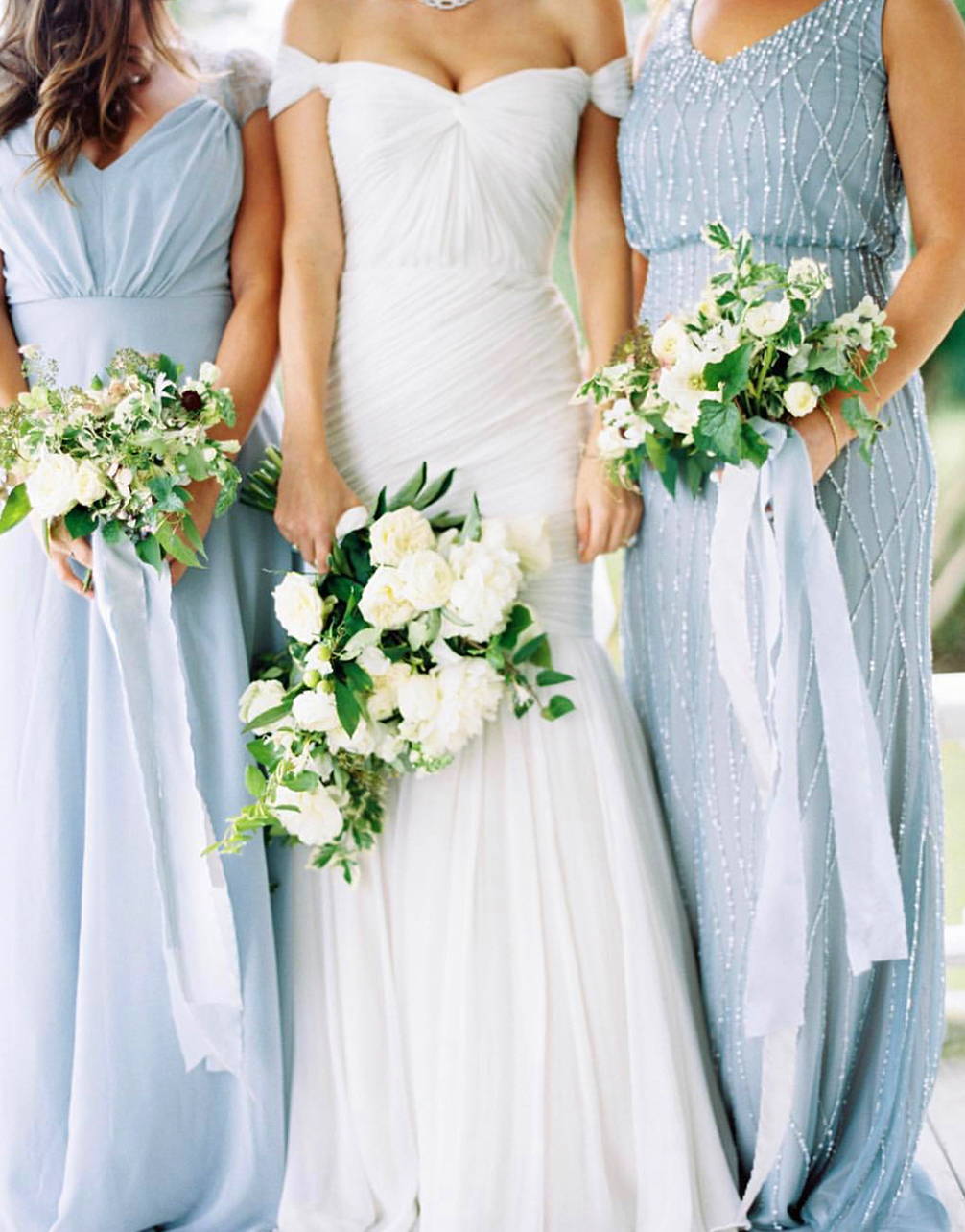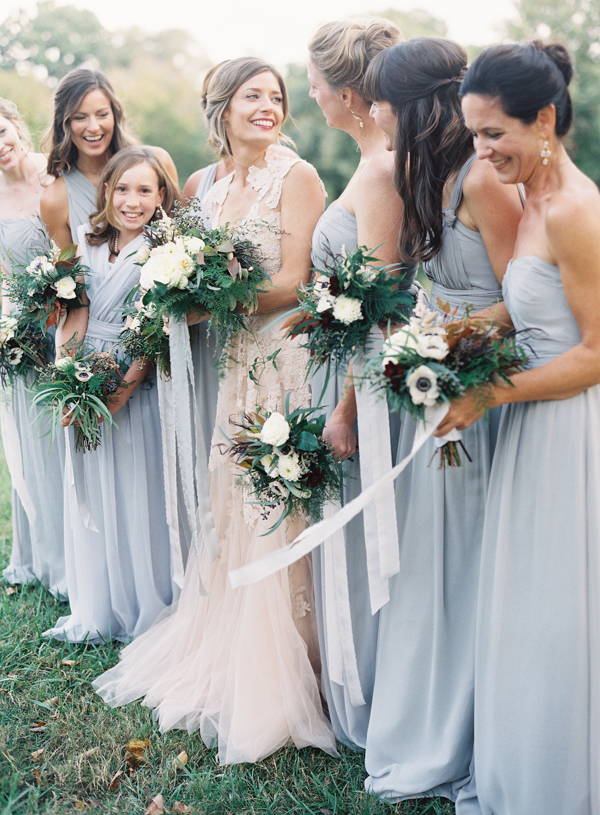 Oh Goodness, I need more examples.
Good thing we have those! Most of our ribbons in the shop have a bouquet example with that ribbon AND sometimes they have more then one. Just incase you need more help, our Pinterest account has great inspiration for weddings including color palette, design elements and bouquets with Froufrou Chic Ribbons. AND you can always email us a photo of a bouquet with FFC ribbons and we can tell you the colors, lengths and textures used.